Amanda Zelechoski is helping to build capacity and synergy in mental health training at PNW
May 5, 2022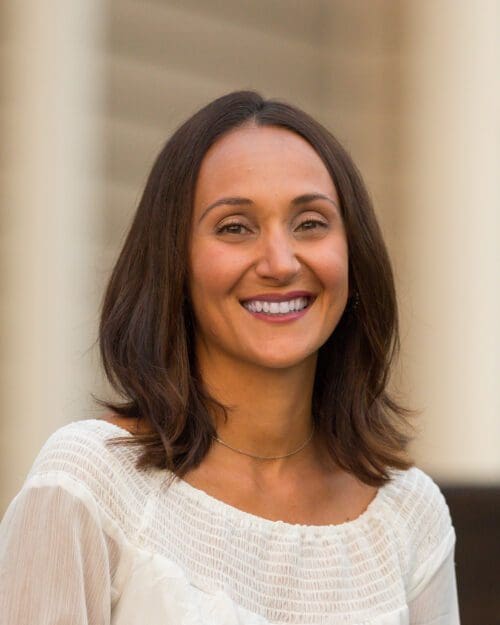 Amanda Zelechoski, professor of psychology, brings a wealth of experience aimed at taking PNW's growing psychology training programs and community outreach to the next level.
Zelechoski, who previously taught at Valparaiso University for 10 years, came to PNW's Department of Psychology in fall 2021 to fulfill a long-term goal: putting a dent in the concerning shortage of mental health assessment resources and training opportunities in Northwest Indiana.
"There are very few clinicians in the region who can do clinical assessments and psychological testing, which tends to be a skill primarily under the purview of psychologists," says Zelechoski. "What appealed to me about PNW was the strong partnerships already established with the surrounding community. Psychology was a primary discipline missing here in terms of training students at the graduate level, putting them on a path toward licensure, and decreasing the mental health service gap."
Making mental health care accessible
Zelechoski's research and teaching background centers around child and adolescent psychology and trauma. She is a licensed clinical and forensic psychologist and attorney. She strives to make mental health services and research accessible for underserved populations.
"In science, we often do a bad job at outreach," Zelechoski says. "We publish articles in journals that are typically behind paywalls and full of academic jargon. It's on us to do better. If we're not giving psychology away, then who are we doing the research for? A lot of my research is about kids who have experienced trauma, and these are populations and spaces that don't always have access to this research or the capacity to translate and implement it."
One of Zelechoski's most recent research partnerships took off during the start of the COVID-19 pandemic. Together with fellow researcher Lindsay Malloy, associate professor of Psychology at Ontario Tech University, she co-founded Pandemic Parenting, a free digital resource hub and nonprofit organization. Zelechoski and Malloy each conducted research about the pandemic's effects on parents and children in 2020. Although the research is ongoing, the two made their preliminary findings available to help parents and caregivers as soon as possible with webinars, blogs, social media, and podcasts. One of those audio resources, Roadmap to Resilience, is a collaboration between Pandemic Parenting and the University of Connecticut School of Medicine.
"When you're a child trauma researcher, you don't typically know a crisis is coming," says Zelechoski. "The pandemic was a unique situation where we knew something was going to happen. It seemed like a recipe for disaster, knowing that kids would mostly be stuck at home with extremely stressed parents and they won't have access to schools and other community organizations that typically provide them with support. I anticipated child maltreatment rates soaring.
"If I was worried about this as a working parent, with the layers of privilege I have, what was it going to look like for vulnerable families who don't have access to the resources and support they need? That's why we've been working hard to quickly translate and disseminate mental health research and resources for over two years now."
What appealed to me about PNW was the strong partnerships already established with the surrounding community.




New academic horizons
Zelechoski's plan to bolster PNW's mental health training opportunities is two-fold: establish a community assessment clinic and develop and pursue approval for a new Doctor of Psychology (Psy.D.) degree.
Zelechoski foresees great synergy between Psychology's new initiatives and PNW's existing programs in Counseling, Couple and Family Therapy, and Social Work, as well as building upon the well-established Community Counseling Center and Couple and Family Therapy Center to provide the community with psychological testing and evaluation services.
"Psychologists have specialized training in assessment and evaluation and can help clients and therapists by providing specific and comprehensive diagnoses and recommendations for clinical services, including at our complementary in-house treatment clinics at PNW, as appropriate," says Zelechoski.
Zelechoski is working with Kimberly Brunt, clinical associate professor of Psychology, and Alicia January, associate professor of Psychology, on developing the proposal for a doctoral degree in clinical psychology, with hopes of enrolling students by fall 2023, pending required approvals.
The degree will be a doctor of psychology, also known as a Psy.D., which is more clinically-focused and intended for those with the primary goal of clinical practice, rather than a Ph.D. (doctor of philosophy) which is typically more research-focused. The Psy.D. will have a master's degree program embedded into the academic plan. The program is also designed to create a network and pipeline for undergraduates to interact with master's- and doctoral-level students in research and clinical training contexts, she says.
"Our focus at PNW is to create strong practitioners grounded in the psychological science," says Zelechoski. "Some of our areas of strength and emphasis will be child and adolescent, trauma, and forensic psychology. We've done extensive market analyses of the clinical specialty areas most needed in this community and most feasible to offer in collaboration with our community partners. I can't wait for the community to directly benefit from the high quality, comprehensive, and affordable doctoral level training we'll be providing at PNW in the years ahead."