Faculty Convocation Spring 2021
January 25, 2021
Remarks by Chancellor Thomas L. Keon and Provost Kenneth C. Holford
Thank you so very much for all that you do!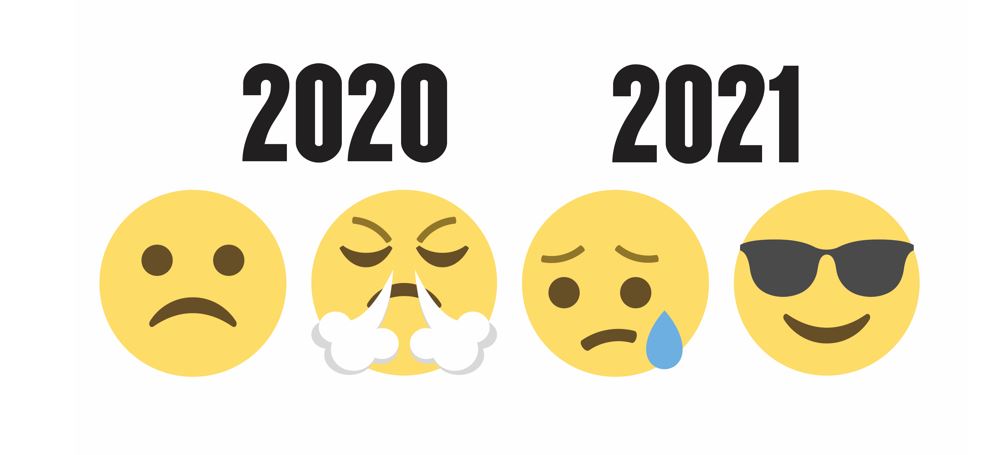 Upcoming Celebrations
Contingency Planning for 2021 and Beyond
Role of Uncertainty
Impact of the Environment
Impact of Unforeseen Factors
 Significant Contingencies
Enrollment: Head Count and Credit Hour Production
COVID Effect on Enrollment
State Financial Support
U. S. Immigration Policy and International Student Enrollment
Contingency Planning for Enrollment
Continued declines at Midwest and Northeast Colleges/Universities
COVID

Transfer students (down) nationwide
Returning students (down) at PNW and in the Midwest
Applications (down) at PNW and in Northwest Indiana

International Students

COVID Effect: How long will it last?
U.S. Immigration Policy
Fall 2021 Undergraduate Applications
Submitted through 12/15/20
| Institutions | Fall 21 Application Trends |
| --- | --- |
| Ball State |  -10.0% |
| Indiana State | -10.0% |
| IU-Bloomington | 3.6% |
| IU-East | -46.0% |
| IU-Kokomo | -15.0% |
| IU-Northwest | -39.3% |
| IUPUI | -6.9% |
| IU-South Bend | -20.1% |
| IU-Southeast | -22.2% |
| PU-Fort Wayne | -10.0% |
| PU-Northwest | -43.2% |
| PU-West Lafayette |  -1.2% |
| Univ of Southern Indiana | -8.0% |
| Vincennes | -35% |
| IvyTech CC |  -20-25% |
Reliable data is essential.
Accurate predications, months and weeks in advance of the semester
Institutional Research – Michael Bourgeois and Team
Contingency Planning for State Funding
State funding has been reliable and predictable pre-COVID.
State funding has primarily been a fixed amount based on historical budgeting. IT IS NOT PER-STUDENT.
Indiana funding is generally at the mid-point of states within the U.S. based on a per capita basis.
Higher Education Support per Capita by State
Fiscal 2017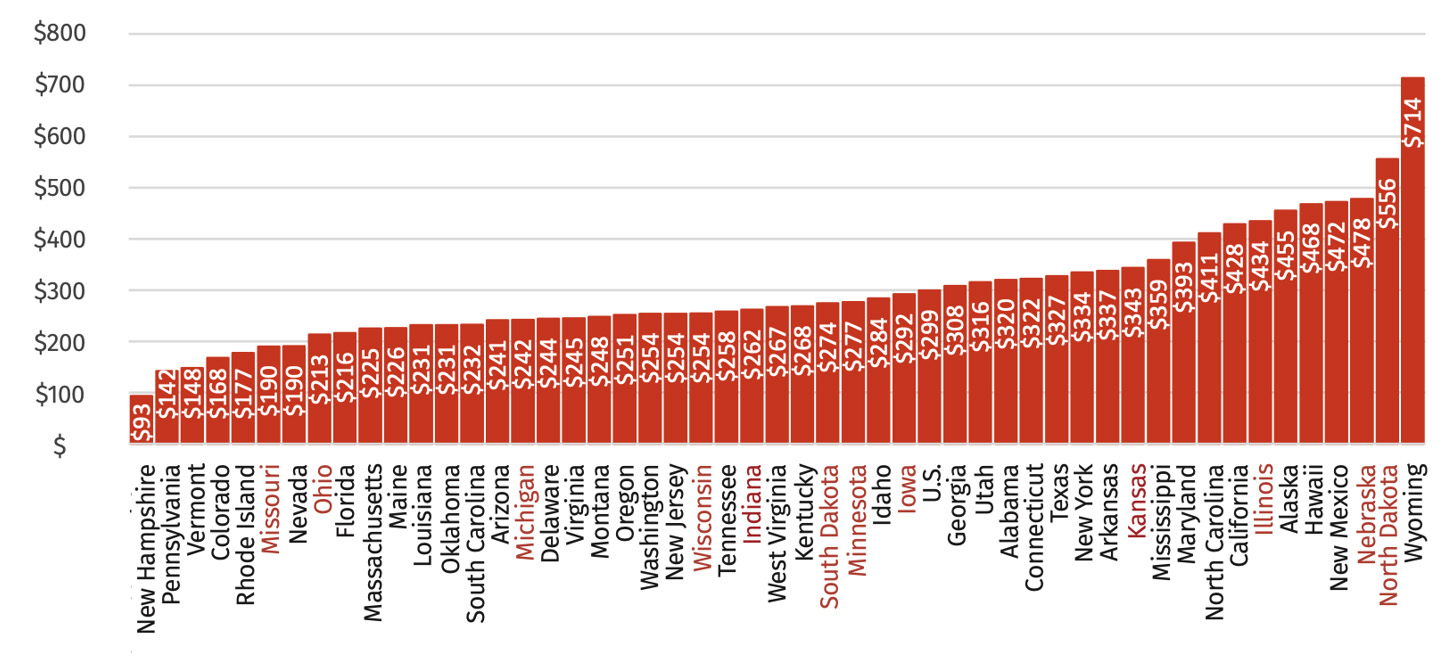 Notes
1. Higher education support is state and local tax and nontax support for public and independent higher education, including special purpose appropriations for research-agricultural-medical.
2. Full-time equivalent enrollment equates student credit hours to full-time, academic-year students.
Sources: State Higher Education Executive Officers; Population data from the U.S. Department of Commerce, Bureau of Economic Analysis, Regional Income Division.
State Funding for Higher Education Remains Far Below Pre-Recession Levels in Most States
Percent change in state spending per student, inflation adjusted. 2008-2018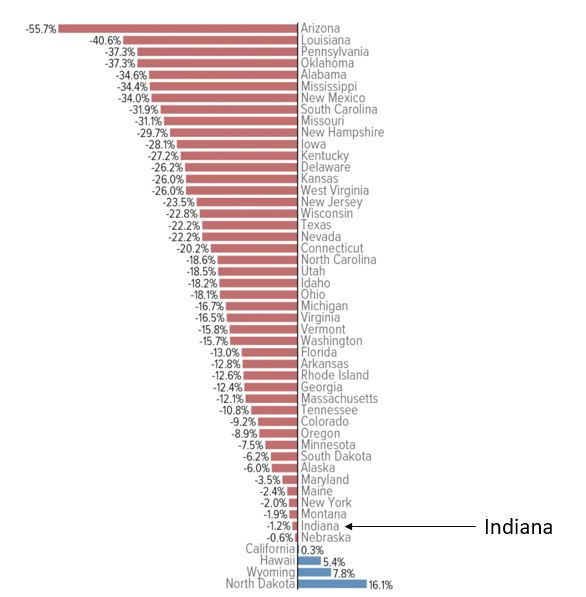 State Financial Support and COVID
State Support 2020-21

State reduced all state agencies by 15%
State reduced Higher Education by 7%

State Support 2021-23

To be determined.
ICHE recommended restoring the 7%
Governor recommended restoring the 7 %, plus a 1% increase in FY22 and another 1% in FY23
Still several steps until the Legislature finally approves budget.
Long Term Contingency Planning
Significantly less predictable
Expect continued enrollment declines (Demographic Cliff)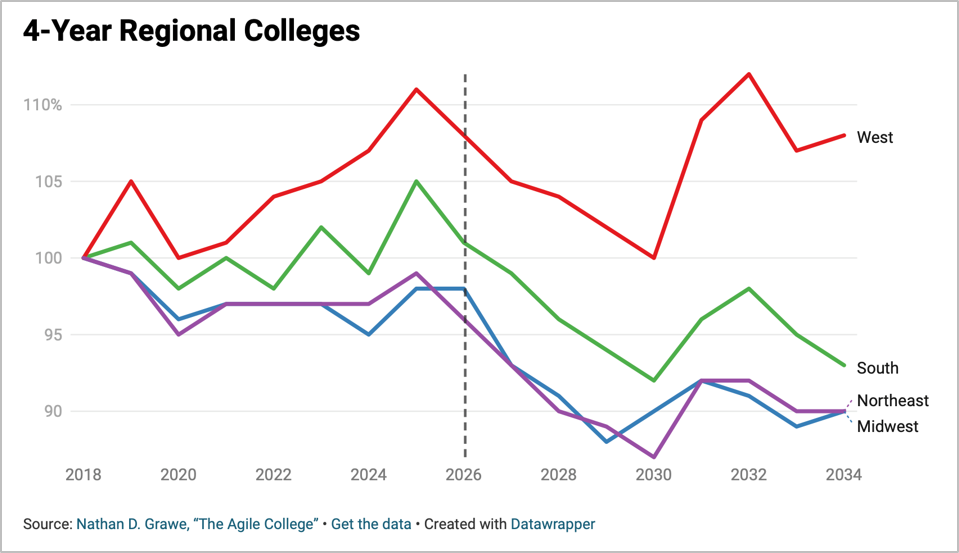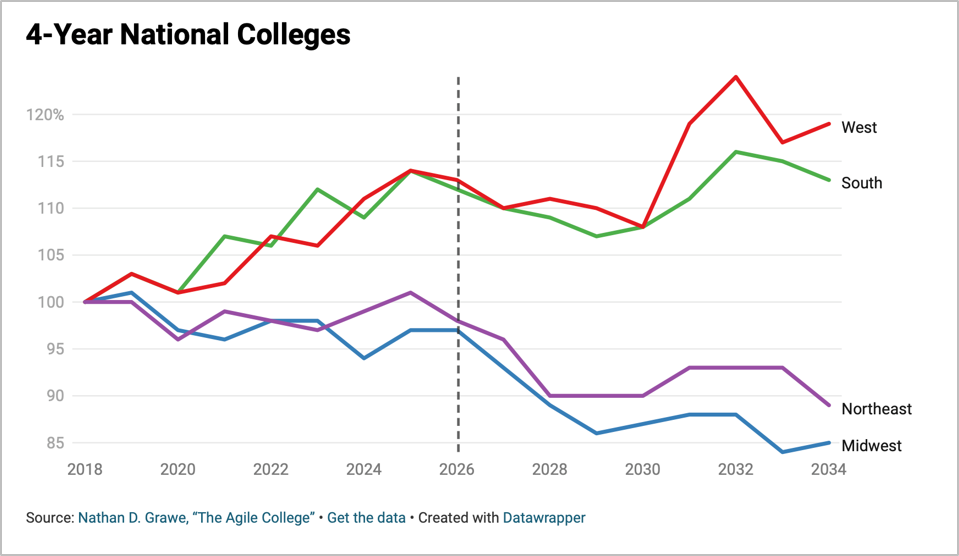 Long-Term Contingency Planning
What does PNW need to do?
Add new majors that have viable markets
Increase the perceived and actual quality of PNW and PNW programs
Looking at the Landscape: Today and Tomorrow at PNW
Where We Are Today

Faculty Accomplishments and Points of Pride
Update on initial priorities
Core enrollment and credit hours
Navigating the budget impacts FY21 (and beyond)

Responding to the Challenges

Student retention and success
Financial aid

Thinking About Tomorrow
Faculty Accomplishments and Points of Pride
Increasing number of endowed professorships

Chenn Zhou, NIPSCO Distinguished Professor of Engineering Simulation
Scott Bates, Nils K. Nelson Associate Professor of Biology
John Durocher, Nils K. Nelson Associate Professor of Health Studies
2 additional in CON to be announced in fall

Sponsored research activity

Closing in on $20m this year (49+ awards from 27 different agencies)
$5.9m from NSA to Professor Manguhi Tu, et al. (fall)
$7m from DOE to CIVS Team (spring)

Increasing number of faculty earning national exposure
PNW Race, Racism, Anti-Racism Lecture Series
---
Unheard Voices Of Protest
Three leaders of protests against racism and police violence engage in a roundtable discussion about how they are strategically and tactically challenging racist practices in the US. Aislinn Pulley (Chicago Black Lives Matter), Jae Yates (Twin Cities Coalition for Justice) and Missie Summers (Porter County BLM) lead a panel conversation hosted by PNW professor of media studies Lee Artz.
Interview with Q&A
Tuesday, January 26, 12:30-1:45 PM
---
Health, Equity and Communities of Color
On World Cancer Day, associate professor of English Karen Bishop Morris talks with Tranece Artis (Executive Director, Laini Fluellen Charities), Maria Perez (Coordinator, ACCESS Community Health) and Rachel Nagengast (Cancer Education Program Specialist with ACCESS).
Interview with Q&A
Thursday, February 4, 12:30-1:45 PM
---
Race, Gender and the 2020 Election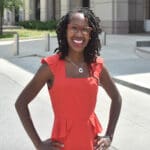 Nadia E. Brown, associate professor of political science, Purdue West Lafayette, assesses the nation's commitment to democratic ideals, focusing on the inclusion and exclusion of minoritized groups during the 2020 election, especially Black women voters and candidates.
Interview with Q&A
Tuesday, March 23, 12:30-1:45 PM
---
The 1619 Project # Summer of 2020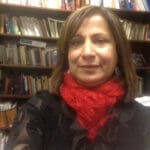 Reflecting on The New York Times 1619 Project – a history of the British imperialist project of enslaving Africans and colonizing America – Mita Choudhury, professor of English, invites a dialogue about the subversive power of protests, riots and resistance to authoritarianism.
Interview with Q&A
Monday, April 19, 12:30-1:45 PM
---
Academic Affairs Priorities (Update)
Enriched student experience

Improve the quality and abundance of co-curricular opportunities
Innovate and refine general education
Focus on the needs of students and stakeholders (ongoing)

Strategic enrollment growth

Continue to improve retention and success (ongoing)
Work together to improve success in gateway courses (needs attention)
Identify "at-risk" students early and adopt strategies to intervene (needs attention)
Create high demand degree programs (needs attention)

National and regional growth through discovery and innovation

Identify and promote projects with regional or metropolitan impact (campus highlight)
Enhance collaborative and interdisciplinary research opportunities

Identity

Focus on becoming a more inclusive and welcoming campus (needs attention)
Developing applied doctoral programs in select areas
Recognize and celebrate faculty excellence
Promote the quality and relevance of the academic programs
Changes in the Core Headcount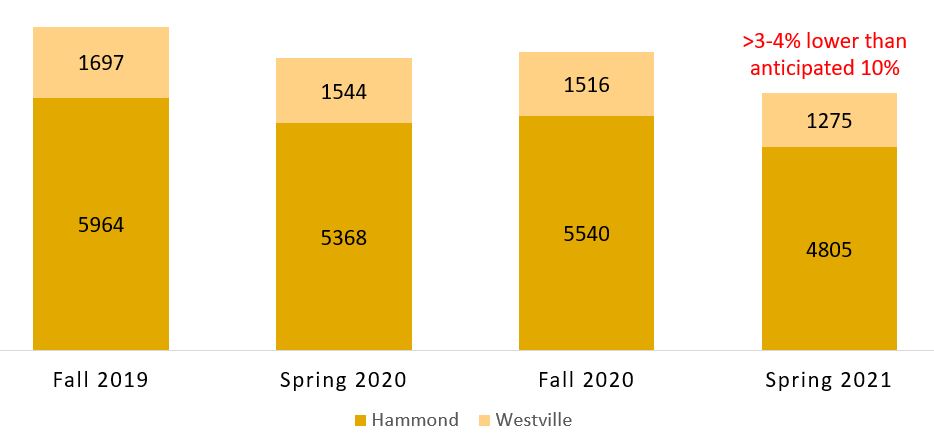 Projected Impact on Core Billable Hours
First-Time-in-College (FTIC) Retention
| FTIC Cohort | Initial Size | Enrolled 1st Spring | Enrolled 2nd Fall |
| --- | --- | --- | --- |
| Fall 2018 | | | Fall 2019  |
| Full-time | 1121 | 990 (88.3%) | 748 (66.7%) |
| Part-time | 51 | 33 (64.7%) | 21 (41.2%) |
| Fall 2018 Total | 1172 | 1023 (87.3%) | 769 (65.6%) |
| Fall 2019 | | | Fall 2020 |
| Full-time | 1207 | 1088 (90.1%) | 852 (70.6%) |
| Part-time | 28 | 16 (57.1%) | 15 (53.6%) |
| Fall 2019 Total | 1235 | 1104 (89.4%) | 867 (70.2%) |
| Fall 2020 | | Spring 2021 | |
| Full-time | 1043 | 828 (79.39%) | |
| Part-time | 56 | 31 (53.36%) | |
| Fall 2020 Total | 1099 | 828 (78.16%) | |
1. Fall 2019 to Spring 2020 FTIC Retention = 89.4%
(improve over previous year)
2. Spring to Fall 2020 retention again improved
*Academic forgiveness
3. Fall 2020 to Spring 2021 FTIC Retention = 78.16%
(11% lower than previous years)
Navigating the Budget Impacts
Resolving Fiscal Year 2021
Enrollment declines (including international)
COVID-19 impacts
Avoided furlough using unfilled lines and temporary savings
Necessary to make the permanent adjustments
FY 2022 and Beyond Will Require Contingency Planning
Normal enrollment variability due to changing landscape
COVID-19 volatility
Possible changes in state appropriations
Responding to the Challenges
Robust digital marketing campaign for AY21 and AY22
EMSA developing plans to re-engage and re-invigorate the student body
Cohesive communication strategy

Collaboration between AA and EMSA
Goal to support access to advising and centralized scheduling
Slate and Navigate leveraged to help students in their virtual learning environments

Collaboration between colleges and academic advisors

Degree plans for all students (goal of 95%+ by end of May)
Standardized process for documenting student interactions in Navigate related to enrollment/retention strategies
Saturday virtual appointments and enrollment triage session
Identification and assistance for at-risk student populations (programming)
Financial Support for our Students
CARES Act Funding

$3m+ provided to student body (additional assistance coming)

Internal scholarships and grants

COVID Tuition Relief Scholarship
Dean of Students Emergency Fund

COVID Tuition Scholarships for Graduate Students

Jointly funded by PNW and the Graduate School
$10,000 in scholarships made available for Fall 2020 and Fall 2021

Full-time, degree-seeking or teacher license graduate students (6+ hours)
Impacted by COVID through illness, family illness, job loss, etc.
Apply for $500 scholarship
Thinking About Tomorrow…
Significant challenges require collaboration
Thinking about our opportunities and making choices

Continue to invest in and leverage development and training

Implementation of an evolving strategy for Westville

Rebuilding the campus community

Continue to recognize and promote faculty accomplishments

Measure of the quality of the institution and value of education

Collective "boosterism" in the communities

Quality education, student focus, and great value
Spring, Summer and Fall Schedules
Spring 21 schedule:
 Face-to-face: 16%
 Virtual classroom: 33% (38% of enrollments)
 Hybrid: 33%
 Asynchronous online: 18%
Summer 21 course schedule
Majority of courses in online format (historic schedule)
Request to instructors and departments to consider moving some content
Planning for a Return to Normal Scheduling in the Fall