Ten highlights from the 2022-23 academic year
May 19, 2023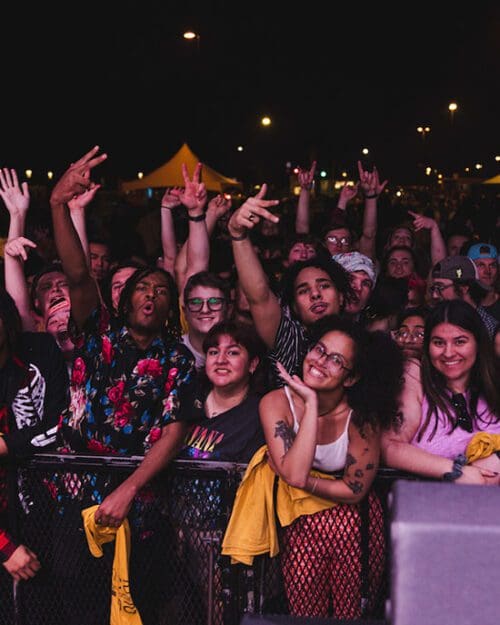 The Purdue University Northwest (PNW) community enjoyed an academic year filled with new achievements in scholarly research, engaging student life events, and community impact.
Take a look back at some of the best moments from the 2022-23 academic year.
Gift records shattered on 10th annual Day of Giving
PNW had its most successful Day of Giving in history with generous donor support that lifted the university's one-day fundraising total to a record $2.85 million. A total of 1,895 gifts were made to PNW in 24 hours, an increase of 34% in participation from the 2022 Day of Giving. PNW ranked fourth among 77 participating units in the Purdue system for total gifts received.
Gifts to PNW support student scholarships, academic programs, Pride athletics, student organizations and other strategic initiatives.
"We are overwhelmed with gratitude for the enthusiastic response of our community," said Lisa Goodnight, vice chancellor of Institutional Advancement. "Day of Giving brings together PNW alumni, leading businesses and charitable organizations, friends to the university from all over the world, and our own students, faculty and staff to invest in PNW's mission to transform lives and Northwest Indiana. We sincerely thank all those who took the time to contribute a gift."
---
Honors College enrolls largest and most diverse cohort to date
PNW's Honors College grew to more than 600 students in size after welcoming over 330 new members. Of the new students, 57% self-identified as non-white or multiracial, 48% were first-generation, 17% were Indiana 21st Century Scholars, and 10% were international students. Since 2016 the Honors College's enrollment has more than doubled.
The Honors College offers enriched academic and research opportunities, leadership engagement, and community service to high-performing students seeking a PNW undergraduate education. Honors College students are also responsible for performing individual community service each academic year.
"I like to say this is an 'Honors College of Opportunity' because we want to provide all of our students the opportunity to excel academically, to serve others, and to be, and become, leaders in the university, the community, and the world. Those are the constant goals we are always seeking to accomplish," said Jonathan Swarts, dean of the Honors College.
---
Culture and Community brought together at Hispanic Heritage Festival
Over 1,500 people from PNW and neighboring communities attended the university's second annual Hispanic Heritage Festival.
The festival featured musical and dance performances, cuisines from local food trucks, a mercado with local vendors and services, a lowrider car show, and more. Prior to the festival, PNW students, faculty, and staff joined the city of Hammond's annual Hispanic Independence Parade, sponsored by the Hispanics United Government Services (H.U.G.S.) Cultural Committee of Hammond.
The festival was one of many events included in PNW's annual Hispanic Heritage Month celebration, which celebrates and recognizes Latinx communities' history, culture, cuisine, and contributions to the world. Over 25% of PNW students self-identify as Hispanic or Latinx.
---
New research centers launch
Three new PNW research centers opened their doors to embark on scholarship and community engagement.
The Center for Justice and Post-Exoneration Assistance began research and advocacy work to meet its mission of averting miscarriages of justice for prisoners experiencing wrongful convictions and exonerees. Led by Nicky Ali Jackson, professor of Criminal Justice, the center works on criminal justice and legal policy reform and serves as a conduit for inmates alleging wrongful conviction.
The Integrative Physiology and Health Science (IPHS) Center began multidisciplinary research as a proactive and holistic approach to human health. The center is led by John Durocher, Nils K. Nelson professor of Integrative Human Health, and fosters collaboration with co-investigators from the colleges of Business, Engineering and Sciences, and Nursing.
The Center for High Energy Physics will allow opportunities for PNW students to observe and participate in research funded by the National Science Foundation (NSF) at Fermi National Accelerator Laboratory in Batavia, Illinois and the European Organization for Nuclear Research (CERN) in Switzerland. The center is led by Neeti Parashar, professor of Physics.
---
Lilly Endowment Grant expands summer programs for K-12 students
PNW was among several colleges and universities statewide awarded funding through Lilly Endowment Inc.'s Indiana Youth programs on Campus. The initiative is designed to support higher education institutions in providing high-quality programming for K-12 students.
PNW was awarded over $700,000 to expand its existing summer camp offerings for youths and create new academic year programs with optional college credits to create an on-ramp to college.
"Purdue Northwest has for many years offered a wide variety of camps and special programs to promote learning opportunities for young people from throughout Northwest Indiana," said Niaz Latif, PNW's project director for the Lilly grant implementation, dean of the College of Technology and executive director of the Commercialization and Manufacturing Excellence Center. "From robotics to cybersecurity to forensics, we engage hundreds of students annually with high-quality programs on our campuses. We are grateful to Lilly Endowment for supporting expansion of these opportunities for youths to explore their interests."
---
Three leaders selected for induction into PNW Alumni Hall of Fame
Three impactful PNW alumni were selected for the second annual class to be inducted into the PNW Alumni Hall of Fame.
The 2023 honorees include Robert Johnson III (B.S. '91, M.S. '96), Stewart McMillan (B.S. '77), and Alfredo Sori (B.S. '89).
PNW's Alumni Hall of Fame honors alumni who are high-achieving leaders in their fields, involved members of their communities and who have engaged with PNW well beyond their time as students.
---
Esports arenas celebrated with grand opening ceremonies
PNW Athletics celebrated its two high-tech, state-of-the-art Esports arenas with grand opening ceremonies at both the Westville and Hammond campuses.
The arenas put PNW on the cutting edge of a fast-growing collegiate sport. Esports involves competitive, organized, and multiplayer online video game competition that fosters teamwork, resiliency, and strategic thinking. PNW was the first public university in Indiana to offer varsity-level Esports, launching its program in 2020.
"Esports in general is something that is a growing industry, and we can tell from how many students are involved in the program right now," said Justin Bragg, head Esports coach. "We really appreciate having a space on campus where we can host events and have competitions for our teams. All of this is integral to running a successful Esports program."
---
PNW TRIO programs receive $5.9 million federal funding renewals
PNW received $5.9 million in federal funding to support its TRIO programs that provide programs and academic assistance for first-generation, low income and underrepresented college students over the next five years. PNW's TRIO programs typically have federal funding awarded cyclically.
PNW's TRIO and Educational Opportunity Programs serve approximately 2,000 students annually and provide opportunity for academic development, motivates students toward the successful completion of a postsecondary education, and increases retention and graduation rates of its participants.
Of PNW's several TRIO programs, the specific beneficiaries included Upward Bound, Upward Bound Math and Science, and the Ronald E. McNair Post-Baccalaureate Achievement Program.
---
Roaring Loud cranks the volume
PNW hosted its second annual Roaring Loud free outdoor concert for current and newly admitted students. More than 700 gathered to jam out to alternative music performances from headliner Beach Bunny and opener Cxpital.
---
PNW recognized as a top producer of U.S. Fulbright scholars
PNW was recognized as a Fulbright Top Producing Institution for U.S. Scholars by the U.S. Department of State's Bureau of Educational and Cultural Affairs for its number of applicants selected for the 2022-23 Fulbright U.S. Scholar Program. Two PNW faculty members received Fulbright awards for the 2022-23 period.
Maureen Mascha, associate professor of Accounting, is conducting research related to sustainability reporting and textual data analytics through June 2023 at the University of Vaasa in Finland. Meden Isaac-Lam, associate professor of Chemistry, will promote and exchange interdisciplinary chemistry research between May and August 2023 at the National University of Singapore, Tan Tao University in Vietnam and the University of Santo Tomas in the Philippines.
"Our accepted faculty members are excited to take full advantage of their privileges to travel abroad, engage in high levels of research and contribute to the international exchange of scholarship at their host institutions," said Kenneth C. Holford, provost and vice chancellor for Academic Affairs. "These dedicated scholars proudly represent PNW on the world stage and demonstrate our commitment to impactful change and pursuit of knowledge."