Return-to-Work Guidelines
The Safe Return to Campus Task Force has developed the following return-to-work guidelines, which have been approved by the Senior Leadership Team.
These guidelines are designed to help us all work together to achieve the goals of de-densifying the campuses, mitigating risks by continuing to have as many people work remotely as possible, and encouraging employees to follow safe health practices while on campus. Implementation of these processes will continue to be based on business needs.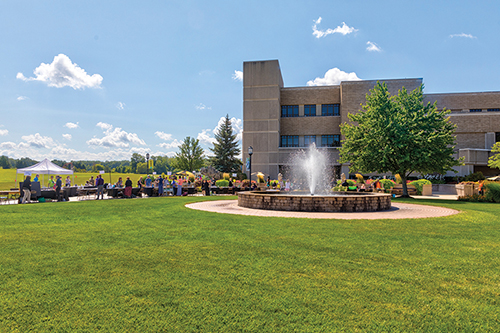 Planning for an In-Person Fall Semester
We are very pleased to confirm that we are planning for an in-person Fall Semester at Purdue Northwest! We expect we will see a return to robust university operations with significant interactive classroom experiences by the beginning of the fall 2021 semester.
See the Fall 2021 Announcement
Key Measures
Face coverings are required indoors except while in your private office. PNW is providing two face coverings to each faculty member, staff member, and student.
Every staff and faculty member is required to complete a short training module that covers common health practices to help prevent the spread of COVID-19. The training module is available in Success Factors.
Please note: PNW employees are not required to complete the Purdue West Lafayette training that might currently be visible in your Success Factors home screen.
Cleaning and disinfecting will be an important aspect of reducing exposure risks associated with COVID-19.  While the university incrementally reopens, all campus community members will be asked to take part in minimizing risk of exposure and preventing the spread by cleaning and disinfecting the various areas of campus.
The university has installed Plexiglas in appropriate designated areas.
All offices should place proper signage so students and visitors understand the procedure for that office.
What Should You Do?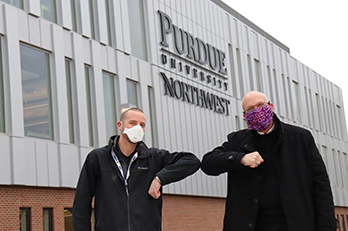 Training modules must be completed by all employees either before returning to work or the first day on campus. The training module is available in Success Factors.
Face coverings will continue to required indoors except while in your private office. PNW is providing two face coverings to each faculty member, staff member, and student. See the Face-Covering Protocol 
All offices should place proper signage so students and visitors understand office procedures.
What can you expect on campus today? Find out with the table below.
Current
Social Distancing Standards in Effect
Yes
Mask Usage
Required Indoors, Your Office Excepted - See the Protocol
Courses
Instructors are beginning the process of migrating back to face-to-face and hybrid instruction for courses originally scheduled in those modalities.

See the Latest Upate
Library and Lounges
Open with appropriate distancing guidelines in place.
Fitness Centers
Phase 2 Plans in Effect - See the Plan
Dining Services
Grab and go only
Size Guidelines for All Gatherings
50 people or fewer

See Guidelines for Scheduling Campus Events
Essential Employees Work Location
On-campus
Non-Essential Employees Work Location
Student-facing services will have an on-campus presence during business hours.
University-Sponsored Travel
University-sponsored travel for faculty and staff will begin again May 17, 2021. Approval should be obtained from the appropriate Dean or Vice Chancellor. All travel is subject to fiscal approval and externally-funded travel will follow the approval process in place for the funding source.

See the Travel Announcement
COVID-19 Screening
Refer students, faculty and staff to local county options
Planning Your Presence
Explore guidelines to optimize your presence on campus, from evaluating in-person staffing needs to cleaning and sanitizing your office space.
Supervisors need to determine which positions can continue to work effectively remotely, and which need to be on campus.
In-person staffing expectations may escalate when the semester starts. Departments may have to vary in-person staffing to meet our students' needs over time.
Social distancing must be maintained so that we can continue to work through implementing these changes and mitigate risk.
It may be most effective and safe to have some positions continue to work remotely until if the department can still meet business needs and provide support to the campus community.
Process Planning
Consider process improvements to limit the number of visitors and minimize physical contact. Options include:
Appointments (Phone arrangements, emails, etc.)
Signage (Hours, contact information, instructions, notifications)
When social distancing can't be maintained, use virtual appointments
Physical Alterations
If the department can't minimize face-to-face encounters with process improvements, physical alterations should be implemented to minimize exposure. Keep in mind that physical alterations may be costly, requiring supplies that may be difficult to procure as well as time to install. We also do not want to permanently alter the university's physical assets if this may be a temporary solution.
Options may include:
Plexiglas at transaction top
Relocation of furniture to ensure proper distancing
Remove furniture and/or equipment to discourage physical contact
Limit touchpoints by removing magazines, newspapers and pens
Establish sanitizer stations near the entry point and at transaction counter
Staffing and Scheduling
For positions that need to be on campus, supervisors may want to consider creative scheduling to limit the number of people present at one time. For instance, if employees do not have an office, supervisors should rotate staff into the office M/W/F and T/R, balancing remote work and on-campus.
Supervisors should work to create a schedule that works best for their department and should not feel that they are tied to the options stated.
If departments have an extra office, supervisors are encouraged to work with another department that may have a shortage of single office space.
Limit people's footprints. People should stay in the building they work in unless absolutely necessary to travel to another building.
Doors
Doors may be kept closed to the hallway with appropriate signage on them for directions. Suite doors may be kept open and office doors should be left open when someone is working inside.
Workstation Guidelines
Each department should work with Space Management to de-densify their office space.
Assign seats if not done so already.
If multiple people use the same workstation, each individual is responsible for cleaning the shared space before and after use. Do not assume the person who used it before you cleaned it.
Remove personal items from desk to allow better cleaning and sanitization.
Re-orient furniture if needed for proper distancing and to allow staff to face the same direction.
Remove guest chairs if six-foot distance cannot be realized
Offices are to be cleaned and sanitized by the department on a daily basis. Please clean your space before you use it as well as after you use it.
Faculty and staff offices will be cleaned and disinfected once per week. Hang tags will be used to indicate whether an office has been used and needs high-touch disinfecting.
Paper towels will be available in all restrooms.
Water fountains should not be used for direct drinking. Existing bottle fillers may be used.
PNW Facility Services Cleaning and Disinfecting Protocols will be followed to minimize the risk of infections. The standard cleaning protocol is specific to each type of space and will be made available to the campus community.
Signs will be posted and stall doors secured to maintain social distancing in restrooms.
Essential COVID-19 Supplies should be ordered by your department's fiscal authority using the following form.
See the Full Cleaning and Disinfecting Protocols
Meetings for the rest of the year will have a virtual component available for those who need it. This will accommodate those who are in higher-risk categories and those working remotely. We recommend using Zoom or Brightspace for meetings.
On-campus meetings must follow social distancing guidelines.
Cleaning supplies will be available in the conference rooms, and it is the responsibility of those using the conference rooms to clean high-touch and high-contact surfaces before and after use.
Conference rooms may be limited as they will first be used for instructional spaces.
Continue to maintain social distancing in these areas and wear face masks.
Remove any unnecessary items from surfaces, such as magazines or pens.
Departments will be responsible for cleaning shared spaces and common areas. Supplies will be provided.
When social distancing cannot be maintained, it is recommended that individuals ride one person to an elevator. Please reserve elevators for ADA compliance and others who need to use the elevator.
Have Questions?
Contact Julie Wiejak, co-chair of the Safe Return to Campus Task Force, at safereturn@pnw.edu.