Which Business Degree is Right For Me?
September 27, 2023
Are you looking for a major that provides you with a stable, rewarding career? A business degree might be for you!
Whether you like public speaking, analyzing data, international affairs or are interested in management, the College of Business at Purdue University Northwest (PNW) has a business degree that can help you reach your goals.
Business majors are employed in every industry in a wide range of positions. From start-ups and small businesses to large corporations and non-profits, business majors are needed to keep companies running successfully. PNW's College of Business offers seven core degree paths to provide you with the skills you need to succeed in today's highly competitive, fast-paced workforce.
See all of PNW's business programs
Core Business Degrees at PNW
---
Are you interested in making investment decisions and understanding how a company finances its business and how profitable it is?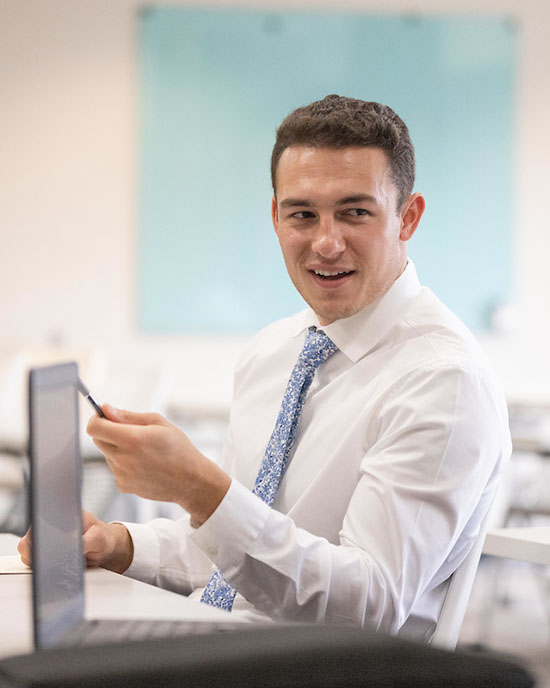 Accounting information is the language of business. Whether a start-up company, a Fortune 500 company or a family-owned business, accounting is essential to the success of a business. Accounting is also important for not-for-profit and governmental organizations. Accounting is everywhere!
Accountants prepare, analyze and interpret financial information that presents the overall financial position and profitability of a company or organization. Owners, lenders, managers, investors and other stakeholders depend on accurate, transparent and timely financial statements to make informed decisions.
As an Accounting student, you will build your foundation in financial and managerial accounting. You will then expand your knowledge of advanced topics such as auditing, taxation, accounting information systems, financial statement analysis and data analysis. Throughout your educational journey, you will engage with accounting professors who have professional certifications and extensive professional experience and who have aligned the accounting curriculum with the CPA exam.
Common Careers
Certified public accountant (CPA)

Certified management accountant (CMA)

Auditor

Controller or Chief financial officer

Financial consultant
Projected Growth
Accounting occupations are expected to grow by 6% through 2031, according to the U.S. Bureau of Labor Statistics.
---
Do you enjoy working like a detective to solve puzzles with data in order to understand the big picture?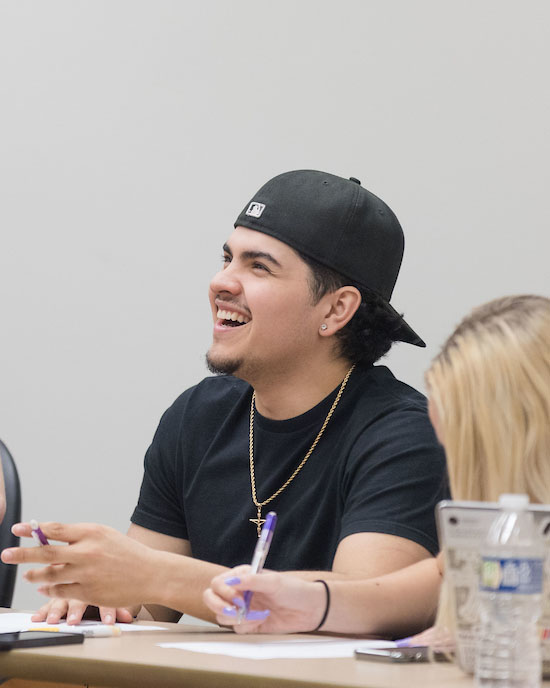 A Business Information and Analytics major teaches you how to harness the power of information to drive organizational success. In today's business environment, it can't be overstated how valuable data is. Employers are actively seeking professionals who can interpret, analyze and leverage data to predict what is best for a company's future.
Business Information and Analytics students will advance their mathematical and computer knowledge. Coursework will help students become familiar with data mining and analysis. Graduates can bridge theory with practice, setting themselves up for a future where they collaborate with industry experts and use cutting-edge technologies to solve complex business challenges.
These professionals are at the forefront of innovation as they use new products and services with the power to shape the business world of tomorrow. These skills are also versatile and can be applied in areas of finance, marketing, operations, health care and more.
Study Business Information and Analytics at PNW
Common Careers
Data analyst
Business intelligence analyst
Data scientist
Market research analyst
Information technology specialist
Projected Growth
Business Information and Analytics occupations are expected to grow by 11% through 2031, according to the U.S. Bureau of Labor Statistics.
---
Do you enjoy making decisions in a high-risk, high-reward environment, like the ones that come with investments and market trends?
A finance path of study sets you up to help call the shots for an organization's investment choices and long-term moves.
As a Finance student, you will learn how to assess economic conditions and make decisions to ensure growth and profitability for a business venture. Finance professionals balance risks and rewards, such as raising product prices or locking in long-term office leases, to increase profit and decrease spending.
Similar to Accounting students, you will learn about the overall financial picture of an organization. However, you will go to the next step of planning or making an organization's budgetary decisions, including what to spend on, invest in or where to save.
Many finance majors work as financial managers and consultants for investment companies, insurance companies, consulting firms, government bodies and nonprofit organizations. Finance majors can also focus on a concentration in banking.
Common Careers
Financial manager or advisor

Financial risk specialist

Investment fund manager

Credit counselor or analyst

Bank controller
Projected Growth
Finance analysis occupations are expected to grow by 9% through 2031, according to the U.S. Bureau of Labor Statistics.
---
Are you curious about how restaurants, hotels, baseball games, concerts and other hospitality and entertainment events are planned, organized and executed?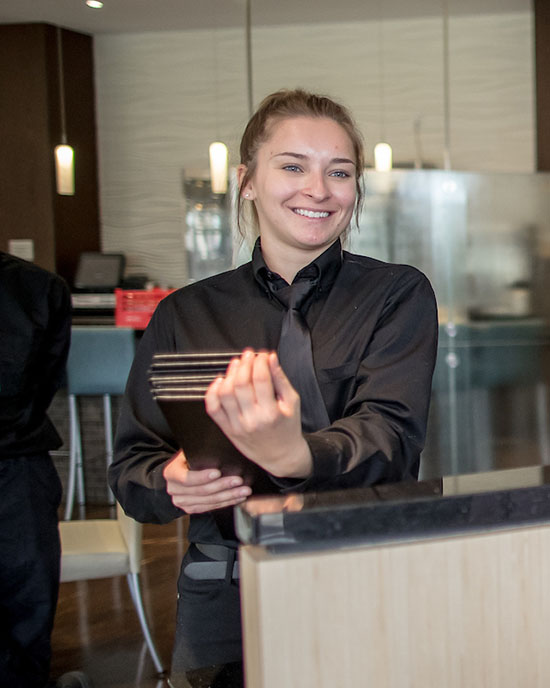 The Hospitality and Tourism Management (HTM) industry is growing and could use curious, innovative and creative students like you!
The hospitality and tourism industry covers five major sectors: lodging and accommodation, food and beverage, recreation and entertainment, travel and tourism and meetings/events.
HTM jobs involve planning, managing, providing lodging, food, recreation and more! HTM professionals are often in client-facing positions or work with vendors in procurement roles to ensure events are successful. An HTM degree will allow you to deepen your skills and knowledge in people, business, finance, management and other crucial areas.
Through state-of-the-art facilities in the White Lodging School of Hospitality and Tourism Management, you can earn hands-on experience in food and beverage preparation and service. The Restaurant at Purdue Northwest puts senior HTM students in a roleplaying leadership position by serving food and beverages and tending to guests in this student-managed space.
Study Hospitality and Tourism Management at PNW
Common Careers
Theme park manager
Food and beverage director
Sporting event suite manager
Cruise director
Hotel manager
Projected Growth
Hospitality and Tourism occupations are expected to grow by 18% through 2031, according to the U.S. Bureau of Labor Statistics
---
Are you a "people person" with great communication skills?
Learn how to help companies build a cohesive, productive work environment with a degree in Human Resource Management. 
Employees are the most important resource any business has. Human Resource professionals help recruit and manage talent, administer benefits and compensation, ensure organizational policies and labor laws are followed, strategically plan for an organization's talent needs and develop leaders and employees.
As a Human Resource Management student, you will learn skills in communication, negotiation, organizational structures, employee relations, conflict management and leadership.
Study Human Resource Management at PNW
Common Careers
Human resource manager

Benefits manager

Recruiter

Employee relations specialist
Projected Growth
Human Resource Management occupations are expected to grow by 7% through 2031, according to the U.S. Bureau of Labor Statistics.
---
Ready to become an influential leader and decision-maker in your organization?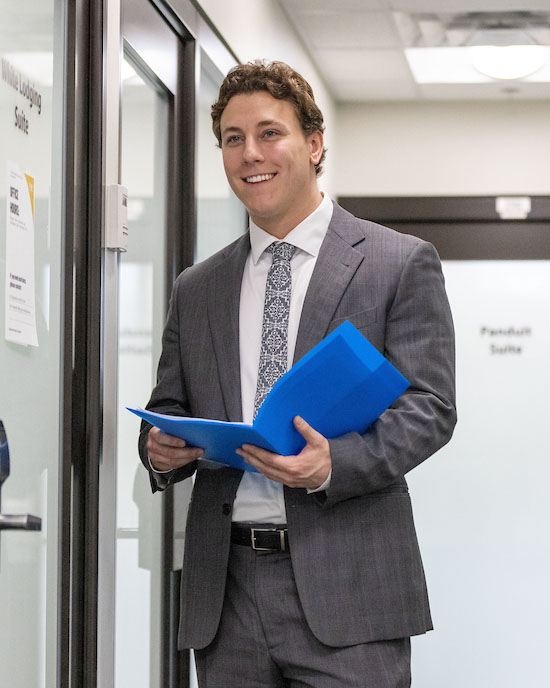 Management studies empower you to master the art of overseeing teams and orchestrating supply chains, all while fostering essential partnerships with suppliers, distributors and investors.
As an aspiring Management major, you'll gain exceptional communication and strategic planning capabilities, equipping you for high-impact roles within any organization. Imagine optimizing your company's fleet with vehicles that not only carry more cargo but also consume less fuel, thereby boosting profitability and trimming operational costs.
Exceptional managers excel in communication, leadership and organization—skills you'll finely tune on your journey with us. This key mix allows you to harness the collective talents of your team to not just meet, but exceed, organizational objectives while maximizing resource efficiency.
While Artificial Intelligence is revolutionizing technical and business landscapes, there's one role it cannot replicate: a highly skilled manager endowed with a blend of soft skills, analytical prowess and interpersonal finesse. In a world increasingly driven by algorithms, the human touch and strategic insights of a savvy manager remain irreplaceable.
By majoring in Management, you're opening doors to an array of career opportunities across diverse sectors—be it as a visionary manager, a dynamic project leader or a savvy supply chain expert. Additionally, you can specialize further with concentrations in cutting-edge areas like Entrepreneurship and Supply Chain Management.
Common Careers
General manager

Management analyst

Management consultant

Project management specialist

Logistician
Projected Growth
Business management occupations are expected to grow by 8% through 2031, according to the U.S. Bureau of Labor Statistics.
---
Are you intrigued by what makes people buy certain products and services, interested in how consumers make choices, how digital strategies work and in storytelling?
Imagine you're the creator of an amazing new smartphone app or a fashion brand with trendy clothing designs. Now, picture this: your app or fashion brand is ready to launch and you want people to know about it, love it and buy it. How do you make that happen? That's where marketing comes into play.
Marketing is the art and science of promoting products, services or ideas to connect with people and persuade them to take action. This action could be buying a product, signing up for a service, supporting a cause or simply changing their perception of something.
As a Marketing major, you'll dive deep into the strategies, techniques and tools used to make those connections and persuade people effectively. Marketers analyze market trends, conduct research and gather insights to identify target audiences and develop strategies that enhance brand visibility and drive sales.
Marketing majors create and manage marketing campaigns across various channels, such as traditional media, professional selling and the ever-evolving domain of digital marketing. Additionally, they use data analysis to measure the success of their efforts, make data-driven decisions, add value for their customers and continuously refine their strategies to adapt to changing market dynamics.
Overall, marketing majors play a pivotal role in shaping a company's image, expanding its reach and ensuring its products or services resonate with consumers. A marketing major is your ticket to understanding the fascinating world of consumer behavior, sales, digital marketing and advertising. It equips you with the skills to help businesses and organizations thrive by connecting with their audiences effectively. So, if you're curious about what makes people tick and have a knack for storytelling, a marketing major might just be the perfect fit for you.
Marketing is incredibly versatile, so you can work in virtually any industry, from tech to fashion to healthcare.
Common Careers
Marketing manager

Sales manager

Digital marketing specialist

Market research analyst
Brand/Product manager
Projected Growth
Marketing occupations are expected to grow by 10% through 2031, according to the U.S. Bureau of Labor Statistics.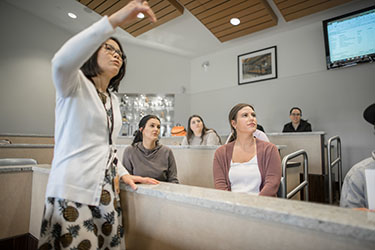 Business At PNW
PNW offers a variety of undergraduate and graduate business programs. Whether you are looking to major, minor or receive a certificate, there is a program for you!