PNW College of Business programs earn reaffirmation of accreditation by AACSB
June 29, 2023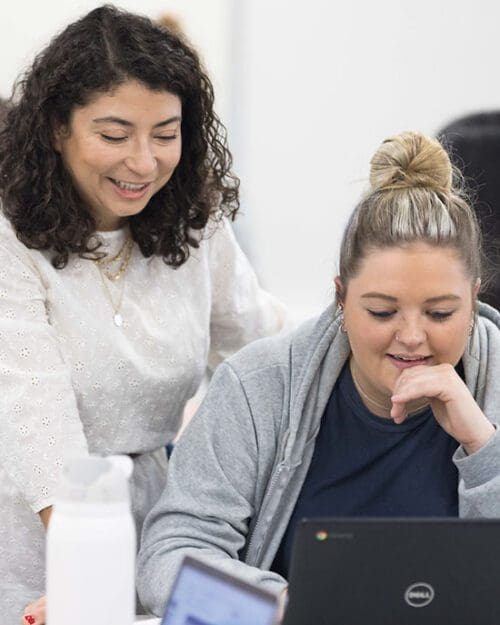 Undergraduate and advanced degree programs in Purdue University Northwest's (PNW) College of Business earned reaffirmation of academic quality and preparation through accreditation by the Association to Advance Collegiate Schools of Business International (AACSB).
AACSB International is the world's largest and longest-standing business education network and recognizable premier global accreditor. AACSB accreditation assures PNW's select College of Business programs meet academic quality standards and graduate students who will become leading business professionals in their respective disciplines.
"Reaffirming our AACSB accreditation is a testament to the quality of our programs," said Rachel Clapp Smith, Teddy Jacobi Dean of the PNW College of Business. "The team of business deans who visited our campus to conduct the continuous improvement review (CIR) noted that our faculty bring an amazing passion to the learning experience and that our students and alumni are very impressive. It was a comprehensive review of our programs and, most importantly, the outcomes we produce. The fact that they experienced the unique quality of our faculty and staff reflects the strength of our PNW identity. While meeting with students and alumni, the team noticed that they are truly difference makers and the accomplishments of our alumni really made us stand out. I am thrilled by the outcome and am excited to continue to offer these transformational experiences to the future of Northwest Indiana's leaders."
AACSB's accreditation reflects the following PNW undergraduate and master's programs:
PNW's White Lodging School of Hospitality and Tourism Management is separately accredited by the Accreditation Commission for Programs in Hospitality Administration (ACPHA).
PNW's College of Business focuses on providing students with educational experiences that help them grow and develop the skills and abilities needed to achieve their personal and career goals. The college maintains an excellent team of faculty and staff, representing a diverse blend of scholars and distinguished business professionals who bring real-world experience to the classroom; leverages its location in the Northwest Indiana and Chicago corridor as an active learning laboratory for students; and offers a wide variety of academic programs that are intellectually challenging and reflective of recent global trends. To learn more information, visit pnw.edu/business.
"We are proud to acknowledge the strong work ethic and unwavering dedication of our stakeholders and congratulate them on this excellent achievement," said Casey Parker, director of Enrollment Management and Assessment in the PNW College of Business. "AACSB International's accreditation assures that PNW's College of Business programs meet rigorous academic quality standards and produces graduates who are well-prepared for the demands of an ever-changing global business environment."
AACSB International is a nonprofit association with ISO 9001:2015 certification. It accredits more than 950 business schools worldwide. Accreditation includes rigorous external review of a business school's mission, faculty qualifications, curricula and ability to provide high-quality academics.