Purdue Northwest distinguished as diverse metropolitan university
November 4, 2022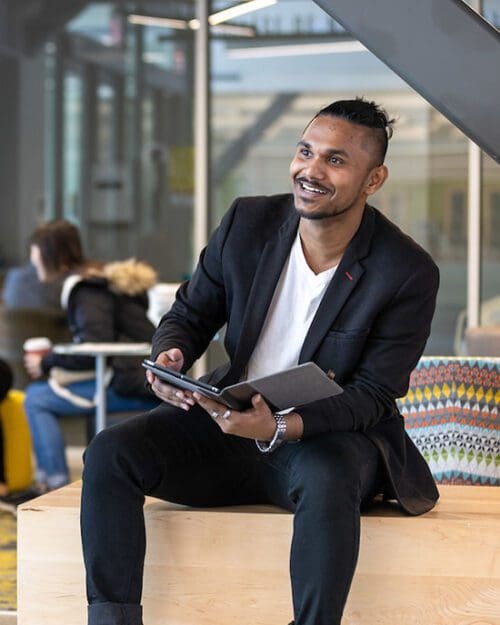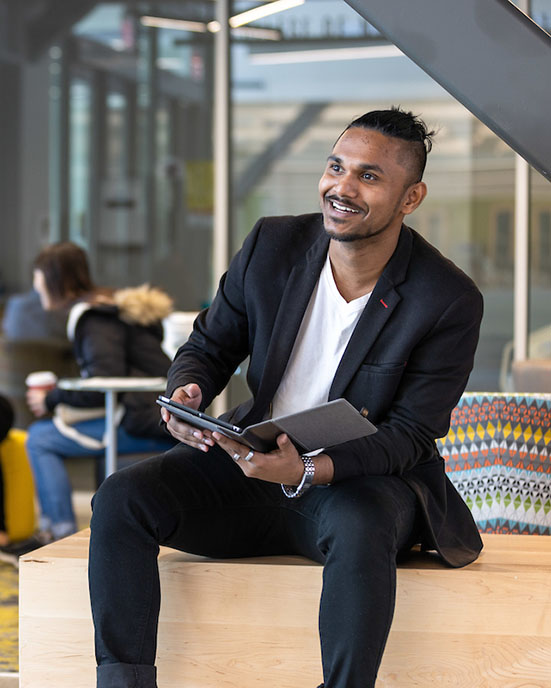 Purdue University Northwest (PNW) is committed to providing a diverse and inclusive learning environment for its campus community that values students and employees from multiple backgrounds who contribute to a vibrant metropolitan university.
The university's faculty and staff have taken active steps to create a sense of belonging through student recruitment, on-campus offices and their resources, and organizations and events through Student Life.
PNW's recent Hispanic Heritage Month featured more than 20 events across September and October that celebrated the Latinx diaspora, including the premier event of PNW's second annual Hispanic Heritage Festival.
Bianca Cortez, a fourth-year Biology major and first-generation student, is president of Unidos Club, a student organization committed to education about Latinx heritage in a safe environment. Cortez says that where she grew up her local community did not have a large recognition for Hispanic Heritage Month. At PNW she was able to connect with peers, lead a student organization, and actively plan and participate with PNW's festivities. Cortez also works as a peer mentor in TRIO Student Support Services.
I like to emphasize that PNW is a place for everyone, no matter the culture that you are, no matter where you come from, we have a place for you here.




"My number one goal coming into PNW was to find a place where I felt included," said Cortez. "I feel I have a place now. With Unidos Club I have a goal for students to be included and have a safe space so they can talk about what being Latino means for them. Being Latino means something different for everyone. Not every Latino looks the same and not every Latino can speak Spanish.
"I like to emphasize that PNW is a place for everyone, no matter the culture that you are, no matter where you come from, we have a place for you here."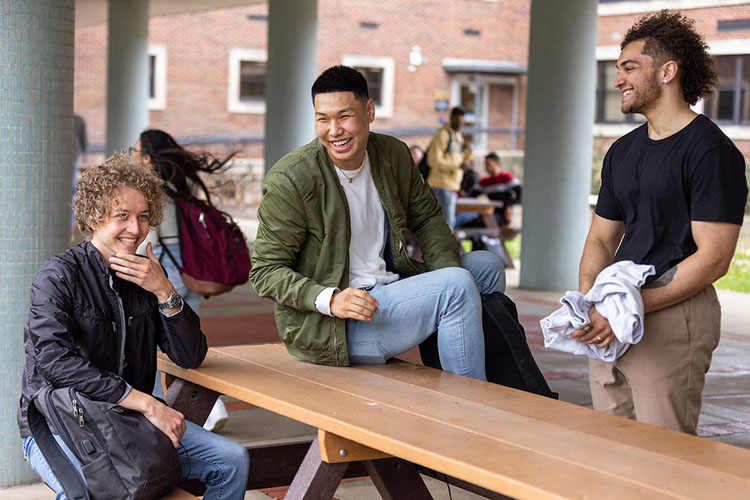 Resources abound
Elizabeth Babcock Depew, vice chancellor of Enrollment Management and Student Affairs, credits a collaborative effort both inside and outside of her unit that has helped PNW successfully recruit a student body that is increasingly reflective of the community it serves.
"We're trying to get that sense of belonging started at the recruitment stage and not waiting until the student has chosen PNW," said Depew. "We want that first interaction to feel like they are part of the PNW family and this is the only place for them because it feels so at home."
Depew says some of the successful steps include:
Connecting a prospective student with an Admissions recruiter and a Financial Aid representative who stay connected to that student throughout their whole admissions process and academic career
A reworked, tiered structure of merit scholarships
Additional programming and outreach with Latinx and first-generation students, such as with the Office of Hispanic Serving Institution Initiatives, as well as ongoing efforts by Educational Opportunity Programs and TRIO in recruitment and service for first-generation or underrepresented students
Increased involvement with faculty to expose students to academic and research opportunities during their campus visits, as well as external opportunities like STEM on the Road and tabling at local community events
Revamped and more intentional approach to digital marketing with multiple tools that can reach prospective students on websites, cell phones, social media and email, while still continuing traditional recruitment methods such as visits to high schools and college fairs, and direct mailing of materials.
"We look to see what the students are saying they need and what questions they still have once they get here," said Depew. "We wanted to take a proactive step of looking at the whole student and their recruitment experience. It's similar to our goals and research in relation to becoming a Hispanic-Serving Institution, which means not being Hispanic-enrolling but truly Hispanic-serving. It's taking those principles and tying it to all of the students and seeing what each group of students needs."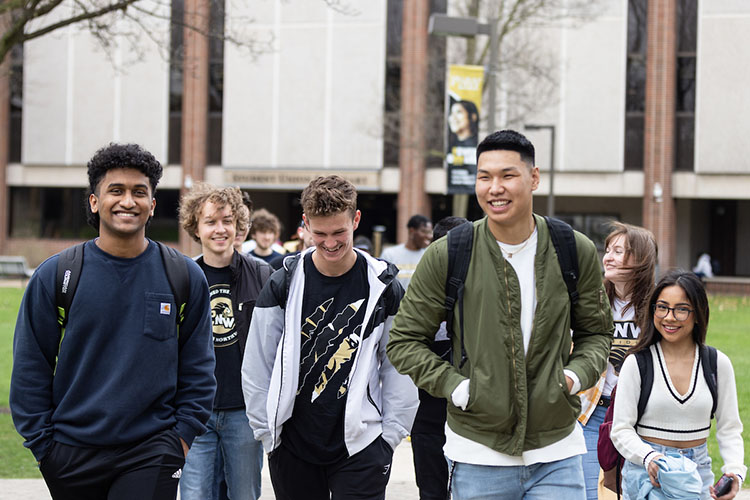 Culture of inclusion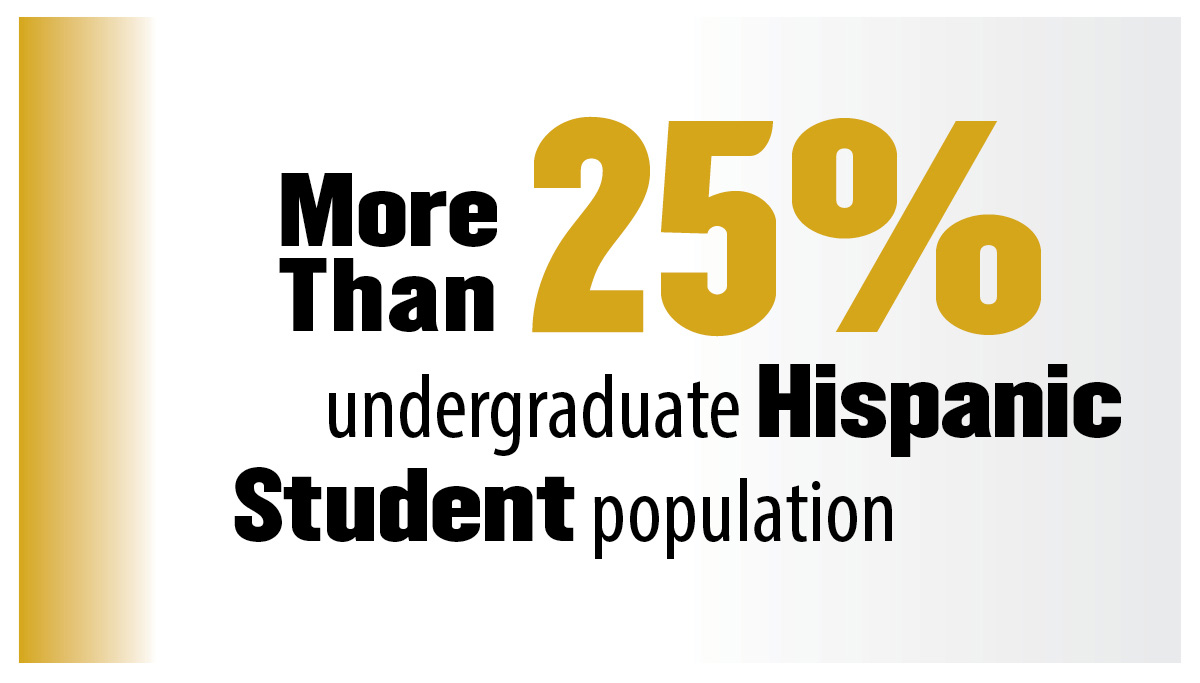 Once at PNW, students are among an undergraduate student body that is 25.8% Hispanic or Latino; nearly 11% Black or African American; nearly 4% multiracial; and nearly 3% Asian.
Beyond the classroom, students can connect academically or socially with peers through professional and student organizations. From Society of Hispanic Professional Engineers to Black Student Union, there are several ethnicity-centric student organizations aimed at fostering belonging and support for students at the university.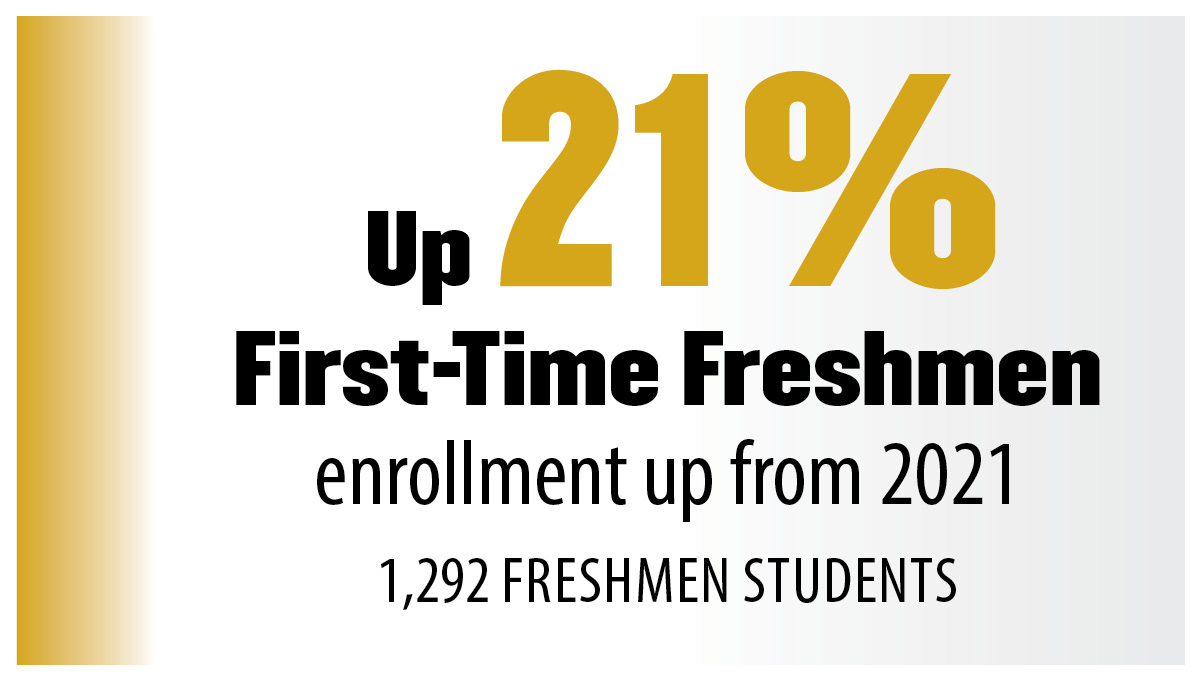 "Those are emotions to feel included and accepted," says Catalina Rodriguez, assistant vice chancellor of Educational Opportunity Programs, director of TRIO Student Support Services, and co-chair of the Cultural Heritage Celebration Committee. "We're building a space for everyone where everyone can try, ask questions, and connect with others."
By the numbers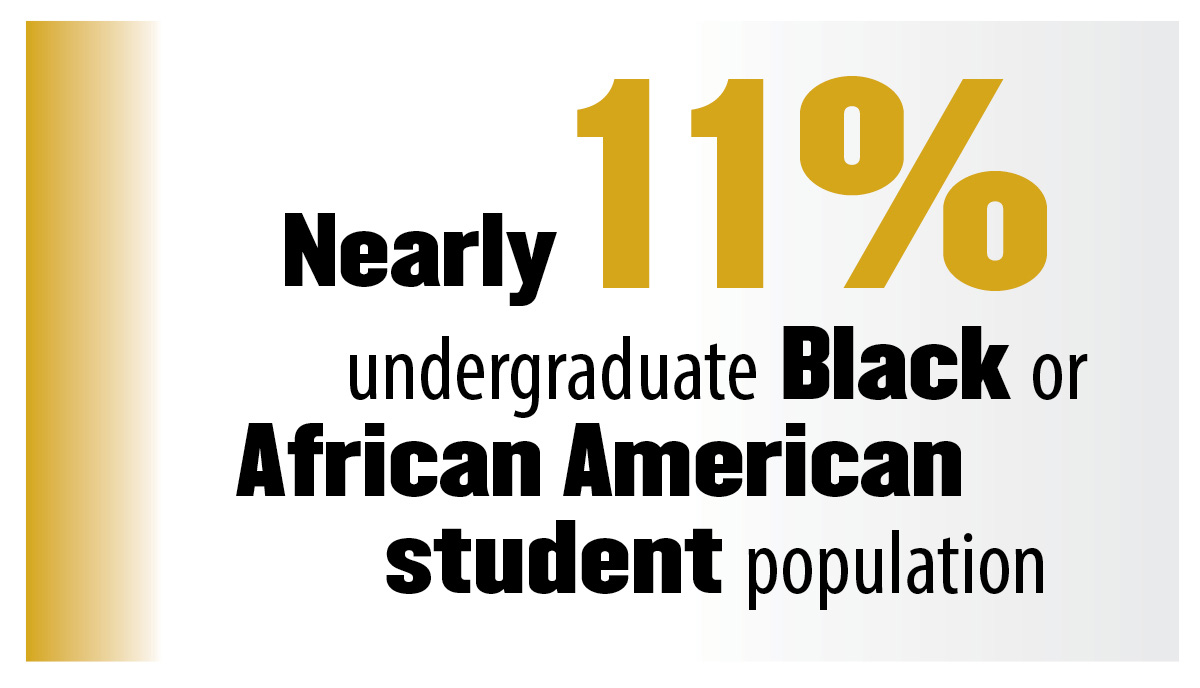 PNW's diversity is marked by steady increases in different race or ethnicity identifications among the student body since 2016.
The largest ethnic growth has been in Hispanic or Latino students — a more than 7% increase. By gender, the same population has hovered between 50-52% female and 47-49% male.
PNW's fall 2022 enrollment data is highlighted by its 1,292 first-time freshmen, a 21% increase from the previous academic year. Nearly 30% are Hispanic or Latino and around 12% are Black or African American within this group.
The Honors College, which offers more than 600 high-achieving students enriched research and academic opportunities, leadership engagement and community volunteerism, is also considered one of the most diverse in Indiana. Among over 330 new admits, 57% self-identify as non-white or multiracial and 48% are first-generation. Fifty-six of those students are also Indiana 21st Century Scholars.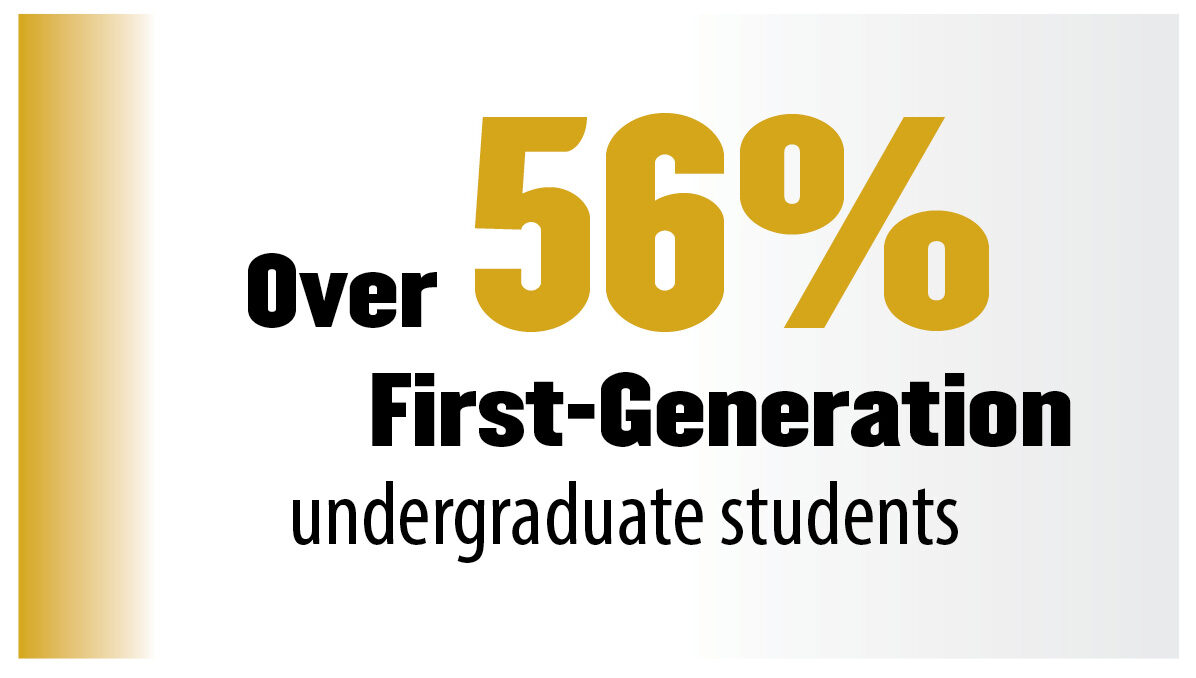 "As a metropolitan university, Purdue Northwest dedicates numerous resources to actively recruit and assist prospective students from diverse backgrounds to join our high-quality academics and research," said Chancellor Thomas L. Keon. "More than half of our students are the first in their families to attend a higher education institution. PNW provides its students the support they need to achieve a college degree so these students can in turn make immediate impactful change through in-demand careers in our region and beyond."
PNW provides its students the support they need to achieve a college degree so these students can in turn make immediate impactful change through in-demand careers in our region and beyond.




PNW's diversity was recently recognized again in U.S. News & World Report's annual 2022-2023 Best Colleges rankings. PNW is ranked in the top 20 for campus ethnic diversity among Midwest regional universities, and ranked third among just public institutions. The recognition pertains to the likelihood PNW students will encounter classmates of another ethnicity on campus. PNW is also recognized for its social mobility among Midwest regional universities, which measures how well a university graduates Pell Grant recipients.