Commencement Ceremony: Day-Of Guide
Spring 2022 Commencement Dates
Sunday, May 15, 2022 on the Hammond Campus at 12:00 P.M. noon
The 12:00 P.M. noon ceremony will be for all undergraduate and graduate students in:
College of Business
College of Engineering and Sciences
College of Humanities, Education, and Social Sciences
College of Nursing
College of Technology
Due to potential severe weather in the Hammond area on Sat., May 14, Purdue University Northwest is moving its Spring 2022 Commencement Ceremony to Sunday, May 15, at Noon CDT. The day-of commencement schedule will remain the same, as outlined on this page.
Forecast
Commencement will be held outdoors. We encourage all students, faculty and guests to please prepare for warm, humid and possibly rainy weather.
Drink plenty of fluids. Guests are encouraged to bring a sealed plastic bottled water or other non-alcoholic beverage. No concessions will be available on site. Alcohol is prohibited.
To stay cool, wear loose, lightweight, light colored clothing. Guests should consider wearing a hat for protection from sun or rain.
Check pnw.edu for any weather-related updates.
Inclement Weather Plan
Guests are asked to please be prepared if the forecast calls for showers. You may bring an umbrella into the ceremony venue.
If needed, PNW will offer rain ponchos to students and faculty participating in the ceremony.
---
General Information for Graduates and Their Guests
The ceremony will last approximately 2 to 2 1/2 hours. Participants will not be permitted to leave the commencement venue until the ceremony is concluded.
COVID-19 Precautions
All PNW COVID-19 protocols must be followed while on campus.
Live Stream of Commencement Ceremony
The commencement ceremony will be streamed live on the PNW web site for those guests who were not able to obtain a ticket.
Live stream of Commencement Ceremony
Campus Bookstore
The Bookstore will be open on Sunday, May 15, from 11 a.m. to 3 p.m.
Ceremony Updates via Text
If you and your guests would like to sign up for text messages regarding any changes to the ceremony, please sign up at https://discover.pnw.edu/register/spring_2022_commencement.
Have commencement questions? Feel free to contact the Graduation Coordinator at (219) 989-2334 or at graduation@pnw.edu.
You must arrive wearing your cap and gown.  Please leave all personal belongings (such as coats, purses or bags) with your guests prior to the ceremony.
Candidates should park in the 169th Street parking garage and report to Lawshe Hall between 10:00 and 11:00 A.M. using the Woodmar Street entrance.  Candidates will check in at their college's table to receive a card showing their name as it will be announced on stage.  If there are any changes, make sure they are clearly marked on the card.  The procession will start promptly at 11:30 A.M.
In compliance with the American with Disabilities Act (ADA), any candidate who might require special accommodations to participate in the commencement ceremony should call Noemi Elizalde, the Graduation Coordinator, at (219) 989-2334 or email graduation@pnw.edu no later than Friday, April 29, to make appropriate arrangements.
Honor cords will be presented to participants who qualify for graduation "with Distinction" or "With Highest Distinction" upon check-in. Please note that only those receiving an undergraduate degree are eligible to graduate with honors.  A candidate for the baccalaureate degree with distinction must have a minimum of 65 hours of credit earned at Purdue University included in the computation of the overall GPA.  The minimum cumulative GPA for graduation with distinction in each college is determined by the top 10% of  it's graduating class each spring.
Grad Images will be available for photos during check-in between 10:00 and 11:00 A.M. They will also take photos as candidates cross the stage to receive their degree. There is no obligation to purchase.
Keep the diploma cover that is given to you during the commencement exercises. Once you receive your diploma from the Office of the Registrar, you may insert it into the diploma cover.
For the Spring 2022 outdoor ceremony, infants and toddlers (under the age of 2) who can sit on an adult's lap for the duration of the ceremony will be allowed entry into the venue without a ticket. A child without a ticket must remain in arms for the entirety of the ceremony. Please note that the commencement ceremony is expected to last 2 to 2 1/2 hours. Strollers must be checked at the entry gate of the venue and will not be allowed into the seating area.
There will be 2 guest check-in areas on either side of the Nils Bioscience building. Do not bring backpacks or other large bags. Small purses are permitted. All bags will be inspected by University Police. Balloons are also not allowed in the Commencement venue.
The seating area will be open to guests at 10:30 A.M. on Sunday, May 15. Guests should park in the 169th Street parking garage and be in their seats no later than 11:30 A.M. to view the entire ceremony. The procession will start promptly at 11:30 A.M.
Limited mobility seating will be available in the venue for individuals that require special accommodations plus one additional guest. All other guests must utilize general seating. On the day of the commencement ceremony please see any staff member in a gold robe for assistance. All specially seated guests must have an admission ticket supplied by the candidate. There will be a guest check-in area in the 173rd Street parking lot where guests with limited mobility can be dropped off and enter the venue. After dropping off a guest, please exit the 173rd lot and proceed to 169th Street parking.
A sign language interpreter will be provided for those with hearing impairments.
Camera and video equipment are allowed as long as they do not create a distraction for other guests. Tripods are not allowed in the Commencement venue. An independent professional photographer will be taking pictures of each graduate as they receive their degree.  Photos will be available for purchase a few weeks following Commencement.
Guests may bring a sealed plastic bottled water or other non-alcoholic beverage, as no concessions will be available on site. Alcohol is prohibited.
Conferring of Degrees
The order of commencement exercises will be as follows:
Academic Procession – Candidates for Graduation, Faculty, and Platform Party
Address to the Candidates
Conferring of Degrees
Recession for Platform Party
Master's candidates will have their degrees conferred while they are standing at their seats. When the signal is given, you will follow your marshal to the stage. As you come to the stage-right lectern, the presenter marshal will call your name. Proceed across the stage to receive your diploma. When you return to your seat, please be seated.
Undergraduate candidates will be presented to the Board of Trustees by school. The dean for each college will call for their baccalaureate candidates to stand and then call for the associate candidates to stand. Once candidates in all colleges have been presented, degrees are conferred.
The presenter marshal will call the graduates to come forward as he asks the marshals to escort them to the platform to receive their diplomas. The marshals will lead the graduates, by college, from the seating area in single-file procession order to the stage. When you come to the stage-right lectern on stage, hand your reader card to the presenter marshal. Once your name is called, you will proceed across the stage and receive your diploma. When you return to your seat, please be seated.
When all diplomas have been awarded and the graduates are back in their seats, representatives of the PNW Alumni Community and of the senior class will speak. There will be a recessional for the platform party and faculty followed by the graduates.
Due to the ongoing COVID-19 pandemic there may be no indoor events or receptions associated with Commencement ceremonies.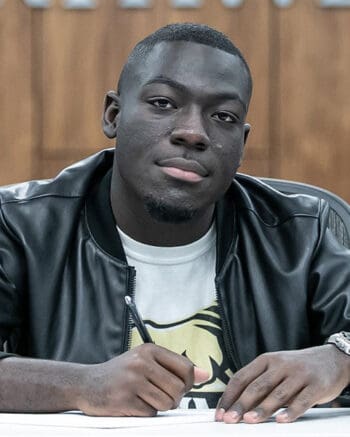 Meet the Spring 2022 Graduates
Discover what inspires our remarkable Spring 2022 graduates—and how they are Powering Onward to their futures.
---
Read Graduate Stories
Have Questions?
Contact the Office of the Registrar.
(219) 989-2334
graduation@pnw.edu
To ensure proper assistance, please provide your name, telephone number and email address when leaving a voicemail message.