About Us
Welcome to the Purdue University Northwest College of Business, located in the dynamic Northwest Indiana and greater Chicago business communities!
Our college is focused on providing our students with educational experiences that help them grow and develop the skills and abilities needed to achieve their personal and career goals.
We do this by:
Maintaining an excellent team of faculty and staff who represent a diverse blend of scholars and distinguished business professionals who bring real-world experience to the classroom.
Utilizing our location in the Northwest Indiana/Chicago corridor, which serves as an active learning laboratory for our students.
Offering a wide variety of academic programs that are both intellectually challenging and reflective of recent trends locally, regionally, nationally, and globally.
Please explore our website and our campuses to learn more about us. We look forward to meeting you.
Rachel Clapp-Smith, Ph.D.
Teddy Jacobi Dean of Purdue University Northwest's College of Business
Accreditation
The White Lodging School of Hospitality and Tourism Management programs are accredited by the Accreditation Commission for Programs in Hospitality Administration, ACPHA.
The College of Business has received accreditation from the Association to Advance Collegiate Schools of Business, AACSB, for the following programs.
Master of Accountancy
Master of Business Administration
Bachelor of Arts in Business with a major in:
Bachelor of Science in Accounting
Bachelor of Science Business with a major in:

Business Analytics
Finance
Human Resource Management
Management Information Systems
Marketing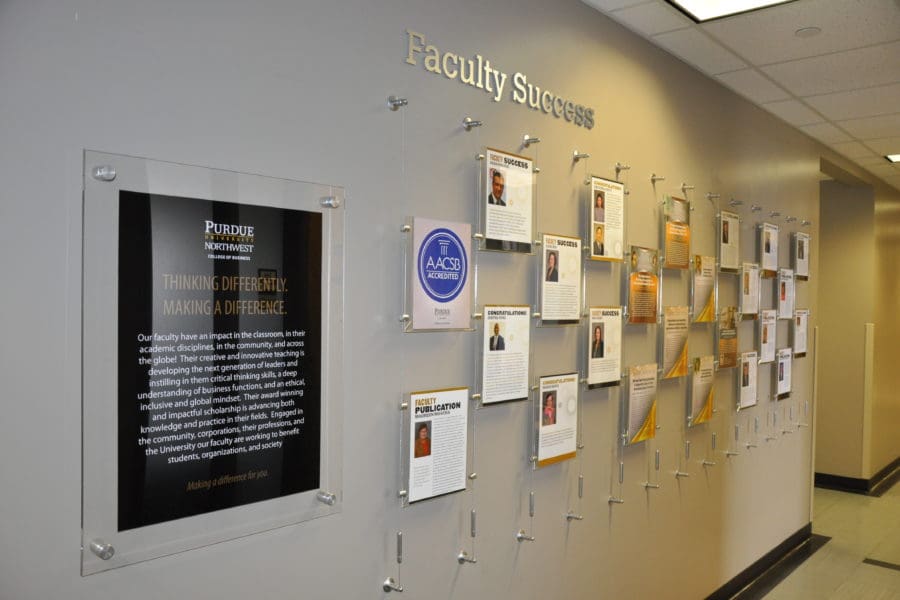 College of Business Faculty
Our engaged and dedicated faculty, many of whom remain working in their areas of expertise, will lead you from the classroom to a career with innovative and challenging learning experiences.
Dean's Advisory Board
The College of Business Advisory Board consists of high-caliber individuals selected for their exceptional stature in the business community: senior executives, successful entrepreneurs, and entrepreneurial academicians and/or for their representation of important groups of stakeholders: alumni, business community, and students.
All members are linked by their commitment to the missions of PNW and the college and by their earnest desire to promote the success of Purdue University Northwest's College of Business.
Developing strategic plans and goals
Providing assistance in pursuing accreditation with AACSB International
Communicating the needs and requirements of the business community to ensure that students develop the skills, talents and personal attitude essential for success
Giving feedback on program relevance for business organizations in the future
Assisting the college in securing resources to support its mission and vision
Acting as change agent working with academic stakeholders to consider the dynamic environment in which business stakeholders operate
Keith Blue, Transload Group, Executive VP/Partner
Rick Calinski, NIPSCO, Director, Public Affairs and Economic Development
Anthony Contrucci, Centier Bank, President, First Bancshares & Executive Officer
Kenneth Giden, Microsoft
Estanislao Herrera Jr., Newly Weds Foods, Director of Corporate Engineering
Adam Hutsler, White Lodging, VP Business Intelligence
Preston Jones, Nova Southeastern University, Former Dean
Rebecca Knoll, Van Drunen Farms, Director of HR Operations
Jennifer McCloud, Cleveland Cliffs, Talent Acquisition
Brandon McConnell, Delavan Lake Management LLC, Corporate Executive
Meredith Mohlke, Purdue for Life Foundation, Director of Development, Planned Giving
Jane Mutchler, Purdue University Northwest, Dean Emeritus
Pamela Pokropinski, Community Foundation of NWI, Financial Reporting & Systems Manager
Jeff Strack, Strack and Van Til, CEO
Peymon Torabi, Peoples Bank, SVP and Controller
Rachel Smith, PNW, Teddy Jacobi Dean, College of Business
Paolo Miranda, PNW, Associate Dean of Undergraduate Studies
Arifin Angriawan, PNW, Chair of Department of Managerial Studies
Matthew Hanson, PNW, Clinical Assistant Professor of Marketing
Deanna Hardwick, PNW, Director of Development
Samantha Horn, PNW, Corporate Relations & Connections Manager
Khalia Phillips, PNW, Senior Administrative Assistant to the Dean
Student Advisory Council
The purpose of the dean's Student Advisory Council is to advise the dean and the associate dean on all matters related to the student body. This includes but is not limited to class scheduling, instructional methods, quality of classroom teaching, faculty availability, enrollment management, retention and student morale.
The SAC will be reorganizing.